What is mgid?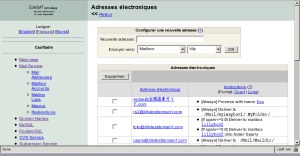 CsoftMGI (also known as csoftadm) is a server management suite which enables users in a multi-user environment to securely perform common administrative tasks.

The suite includes a modular, privilege-separated daemon which can be configured to work on a variety of server environments. When deployed on a redundant cluster of servers, the mgid daemon offers live replication. CsoftMGI also provides a command-line client, mgid(1). Developers can also use the C/C++ client library (libmgid) and the Perl bindings (p5-MGID). CsoftMGI's web interface is implemented in C (built on top of PerCGI), and runs as a FastCGI application server. It is themeable and includes multi-language support.

The mgid daemon and client interfaces have been undergoing continuous development since 1999. Csoft.net's production servers are all managed by CsoftMGI.

The software is mature and well-maintained thanks to constant feedback from users. It is released under a revised BSD license.
Daemon
The mgid daemon is a modular, multi-process server. The base distribution includes the following modules:
Donate via PayPal